TBS Nation
Food Drive / For Salvation Army
Mackenzie Rabe – Event Student Coordinator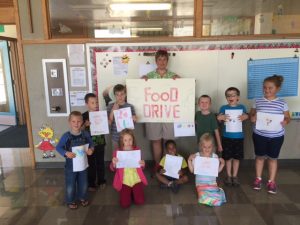 The TBS Student Leadership Team met this morning for an hour to discuss upcoming events. The agenda focused on Food Drives, Community Involvement, Church Support and the Care of our own families.  There are several opportunities for you to get involved!  The SLT is sponsoring a PACKER Day this Friday!  Wear your green and gold in support of the team.  Tomorrow night is the final preseason game – Go Pack Go!  Also, during the month of September TBS will collect Food for the Salvation Army's food pantry.  The lower elementary class and student leader, Mackenzie Rabe, will be sponsoring this drive.  All donations will go to help local people needing food!
TBS Student Leadership Team Meeting
Student Leader Chair:  Andras Muranyi
September Opportunities:
September 1st (This Friday):  Packer Day
September 1- 30th:  Salvation Army Food Drive
September 27th @ 8:00am – See you At the Pole Day
---
Hope you have a great Thursday everybody!  Keep each other in prayer!
– Abell Family Traveling
– Fall Colds going around
– TBS Families
– Struska / Spoor Health Needs
---
Thursday, August 31st, 2017
7:00am – Before School Care (Jeremy Shaeffer)
8:00am – Traffic Safety / Student Drop-off (Amber Shaeffer)
8:15am – Normal School Day
9:00am – Fire Drill
3:00pm – Traffic Safety / Student Pick-up (Amber Shaeffer)
3:15pm-  After School Care (Lin Leeds)
Jeremy Shaeffer
TBS Principal
20 E. Arndt St.
Fond du Lac, WI 54935
920-322-1337
jshaeffer@trinityfdl.netTBS Mission:
Team with parents by providing a quality, Christ centered education and produce young people committed to Jesus Christ who take scriptural leadership roles in their families, church and community.