TBS Nation,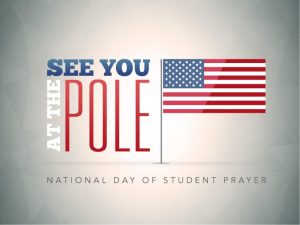 ---
Good morning TBS Nation and welcome to Wednesday!  It is See You At the Pole Day!  There will be a group of students that will gather at the flag pole at 8:00am and pray for our country.  We would welcome any parents to join us on the south side of the building at Follette St.  Right in from of the church there is a flag pole with our American Flag and I do believe that it is necessary for our school to show respect and reverence for the flag and what it represents to us as American Christians!
TBS had a good turn-our for parents night out.  Annika Shaeffer organized this event and there were 12 kids in the building at one point.  TBS SLT provided 6 staff members for the evening and kept kids busy and safe.  Thank you to those that used the time – we trust that it was a blessing and benefit to your family!
Wednesday, September 27th, 2017
7:00am – Before School Care (Jeremy Shaeffer)
8:00am – See You At The Pole (Follete St / South of the Building)
8:15am – TBS Chapel
Elementary – Pastor Leeds
Jr/Sr High – Student Leadership Meeting
3:00pm – Traffic Safety / Student Pick-up (Jeremy Shaeffer)
3:15pm – After Schoo Care (Jeremy Shaeffer)
4:00pm – TBS Elementary Volleyball @ Pier Elementary (Students should arrive 10 minutes before the game)
6:30pm – TBC Awana
Jeremy Shaeffer

TBS Principal
20 E. Arndt St.
Fond du Lac, WI 54935
920-322-1337
jshaeffer@trinityfdl.net
TBS Mission:
Team with parents by providing a quality, Christ centered education and produce young people committed to Jesus Christ who take scriptural leadership roles in their families, church and community.