TBS Nation,
Wouldn't it be nice to have the rest of the Fall just like this week?  Cool in the mornings and nice and warm in the afternoons.  Not to hot but not to cold.  I do believe that this is what we desire in our daily lives as well, however this is rarely a reality!  If you are normal the earthquakes and hurricanes come all the time, right?.  I guess this means that when it is nice out that we really have to take a step back and enjoy the eye of the storm!
The
Parent Bridge
meeting is only one day away and I am really looking forward to you all meeting for fellowship and encouragement.  It is important that you email me to let me know if you are in need of daycare for the hour.  I need to make sure that I have our youth staff in place to accommodate the need.  Amber and I will share letters that we have written to you as parents to begin the night followed by a short challenge concerning the power of the parent.  There will be a 20 minute roundtable / listening secession for parents to share.  Some organization and structure will be set up for future meetings as well as an agenda for the meeting in October.
Subject Line:  Voice
I am also very excited to give a tool and resource to our school families concerning the
Paul David Tripp Parenting Conference
held on September 29-30th.  This will be a time for parents to sit down and focus on the needs of our homes especially when it comes to parenting.  This is an open event and I have invited a few people from outside of our school.  You can do the same.  I want to share this resource and not squander the opportunity to learn how to better parent my children.  I hope you are on board as well!
September 25 TBS will host a
FREE AED TRAINING
at school.  The training will begin at 5:30pm and focus on the use of the AED that is now located in our building.  If you are a TBS volunteer, parent, or student that wants to learn some basics about a defibrillator, this is your chance with no cost to you!  We want to be prepared to help save a life at TBS!
Subject Line: Life
Wednesday, September 13th, 2017
7:00am – Before School Care (Jeremy Shaeffer)
8:00am – Traffic Safety / Student Drop-off (Jeremy Shaeffer)
8:15am – Normal School Day
Elementary Chapel:  Darryl Mayes
Jr/Sr High Chapel:  Dan Leeds
3:00pm – Traffic Safety / Student Pick-up (Jeremy Shaeffer)
3:15pm – After School Care (Sarah Leeds)
6:30pm – Awana @ TBC
Jean Winkler & Kathy Rabe (Hot Lunch servers @ TBS)
Amber Shaeffer & Lin Leeds:  TBS Staff @ Lunch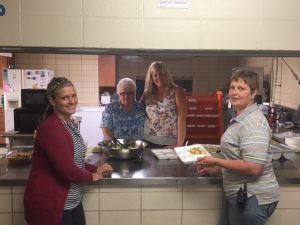 Have a great evening TBS!  Hope you enjoy the "eye of your storm"……
Jeremy Shaeffer
TBS Principal
20 E. Arndt St.
Fond du Lac, WI 54935
920-322-1337
jshaeffer@trinityfdl.netTBS Mission:
Team with parents by providing a quality, Christ centered education and produce young people committed to Jesus Christ who take scriptural leadership roles in their families, church and community.