TBS Nation,
These are a few of my favorite things…..or "students"
#minionphotobomb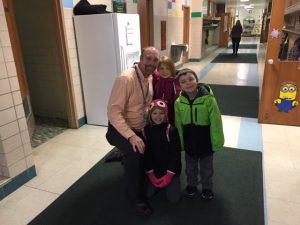 It's chapel day and all TBS Students will be attending and challenged from Philippians today as we study the letter from Paul.  It will be an encouragement to us all to remember that there is a fight worth fighting and a victory to be won in our daily lives.  The new year brings a new set of challenges but they can and should be met with the power of Christ in us.  The question is, are we willing to have the character to fight the good fight?
Parent Update:
TBS Jr/Sr High students will now be required to bring home a Student Agenda / Student Planner.  Each Monday there will be a Weekly Student Planner / Assignment Sheet that each student is required to fill out.  This also requires parents to sign twice a week.  The intention is to put every student on the same accountability level as their peer.  Parents have commented that their students simply just don't have homework and that is absolutely not a truthful statement.  This document is to be an accountability structure for each student.  Parents are to sign the document on Monday evenings and Thursday evenings.  A folder will also accompany this document  that teachers can also pass individual assignments back and forth so parents can have a better handle on what is "good" or what is "not good" as far as homework is concerned.  We trust that this will be a great aid in communicating with you at home and help you know what is happening in the classroom of your Jr & Sr High student.  Students not completing assignments on any given day will be required to stay after school until the assignment is completed unless parental communication changes the after school academic detention status.
Reminders:
*Auction Lists need to be returned ASAP to the TBS Office
*TBS Auction – January 27th, 2017
*WACS competition & fine arts (Student's are beginning their projects / parents beware!)
Wednesday, January 5th, 2016
7:00am – Before School Care (Jeremy Shaeffer)
8:15am – Chapel Day (All School)
3:15pm – After School Care (Sarah Leeds)
6:30pm – Awana @ TBC
Jeremy Shaeffer
TBS Principal
PO Box 1453
20 E. Arndt St.
Fond du Lac, WI 54936-1453
920-322-1337
jshaeffer@trinityfdl.net
TBS Mission:
"Team with parents by providing a quality, Christ centered education and produce young people committed to Jesus Christ"