TBS Nation,
My thoughts today are for those in Houston TX where the massive flooding seems to continue.  It is hard to imagine this type of disaster here in the midwest, however the reality of the storm humbles me.  Man could do nothing but forecast the storm and warn people to prepare for the worst.  I have heard several interviews where the individuals have said something like this, "I can't believe what I am going through", or "I am afraid, or I don't have anything left".  It is extremely comforting that the treasures of this world for believers are not found in things but rather in their relationship with Christ.  So, how should we here in WI react to this disaster?
First, we must pray for those affected.  Just because we believe in Jesus and his providence doesn't mean it reduces the consequences of the devastation for those in Houston and surrounding areas.  We may not have the ability to clean a house out or send food / money, but I do believe that God has plans for all of this and we can pray for His will to be done in TX.  As an application, I may not be in the Struska family or have Lydia Spoor as a child but I can still bear their burden through prayer and commit the situation to my Heavenly Father who does have abilities to work miracles.
Houston TX, (downtown view)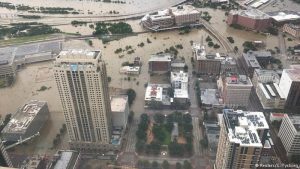 Second, we must embrace the truth that circumstances narrow our priorities from wants to simple necessities.  If you're in the storm you are worried about immediate survival, not about the iPhone app that needs to be updated.  We may not be in a storm right now but we all know they will come.  Be careful to have the right priorities in life for the moment you are living in or the trial you are going through.
Finally, we must renew our vision for those in need.  I do believe we can do things for those in Houston but it may take some thinking and planning.  My mind went to two places in that area because I was there two years ago when my dad was receiving cancer treatment.  It is hard for me to think about all those needing Cancer Treatment at MD Anderson that simply cannot get to the facility for treatment (see above picture).  I also know schools (Public and Private)  will be months delayed because of the storm damage. What a challenge and what a mess. Dare we ask why?  We should have a vision and a desire to help.  Perhaps our help and vision will be focused on what we can do better here in our community of need.
Part of our TBS mission statement encourages our efforts in community – perhaps it is time TBS step up to the plate.  We can also step up to the plate for the families represented in our school!
Opportunity:
Tiffany Spoor contacted me with a need of some meals for the next few days.  I am not sure when they will be able to return home  however we can organize and help.  Let's start with three meals for them so that they can plan on it! Email me if you would be willing  to serve the Spoor family in this way!  
jshaeffer@trinityfdl.net
Wednesday, August 30th, 2017
7:00am – Before School Care (Jeremy Shaeffer)
8:00am – Traffic Safety / Student Drop-off (Jeremy Shaeffer)
8:15am – Chapel Day
Elementary Chapel – Nature Corner
Jr/Sr High Chapel – Student Leadership Planning
3:00pm – Traffic Safety / Student Pick-up (Jeremy Shaeffer)
3:15pm – TBS Staff Meeting
3:15pm – After School Care (Sarah Leeds)
6:30pm – Awana Director and Leader Meeting
Jeremy Shaeffer
TBS Principal
20 E. Arndt St.
Fond du Lac, WI 54935
920-322-1337
jshaeffer@trinityfdl.netTBS Mission:
Team with parents by providing a quality, Christ centered education and produce young people committed to Jesus Christ who take scriptural leadership roles in their families, church and community.