TBS Nation,
I want to commend and thank those who were able to come to the TBS Parent Bridge Meeting last night.  Our group is growing and gaining momentum.  Ryan and Jodi Thorpe, Tiffany and Erick Spoor, Kathy Rabe, Amy Rabe, Bryan and Patty Abell, Amber Shaeffer, Stephanie Hanes and Dale and Angie Bush were all joining the community opportunity to share and engage with school to make TBS better.  There were again very fruitful things that were discussed concerning the parent/school relationship and much encouragement was had.
TBS will be in the KFIZ / 107.1 Bull Christmas Parade this year.  There will be a contest with elementary students to help us design a float for the event!  I am excited about getting our name out in the community so that people begin to recognize that TBS is a great place to educate children. Thank you to all who attended and gave your input and comments.  These were all helpful and good to know.
Our Fundraising is just about complete with the Yankee and Calendar Sales.  If you have not turned in your orders please do so TODAY!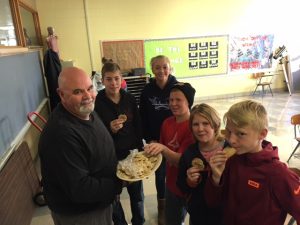 Hope you have an encouraging day!
7:00am – Before School Care (Jeremy Shaeffer)
7:45am – Teacher Meeting
8:00am – Traffic Safety / Student Drop-off (Lin Leeds)
8:15am – Normal School Day
Hot Lunch Menu:  Baked Potato Bar (sour cream, cheese, ham, cucumbers) with Strawberry Poke Cake
 3:00pm – Traffic Safety / Student Pick-up (Lin Leeds)
3:15pm – After School Care (Lin Leeds)
4:00pm – TBS Elementary Volleyball Practice
Jeremy Shaeffer

TBS Principal
20 E. Arndt St.
Fond du Lac, WI 54935
920-322-1337
jshaeffer@trinityfdl.net
TBS Mission:
Team with parents by providing a quality, Christ centered education and produce young people committed to Jesus Christ who take scriptural leadership roles in their families, church and community.