TBS Nation,
It is hard to believe that it is the end of January.  It seems like just days ago we were still in the holiday mode and enjoying Christmas and New Years.  Where does time go?  I think when individuals are busy it is easy to get lost in each day and when you do have time to look up for a minute or two, a month or two has passed by.  I was reflecting this morning as I was shoveling about this very thing.  What is life supposed to be about for a person?  Are we to busy ourselves so much that we forget to look up and see progress?  Are we to be so busy in ministry that we rush down the path God has chosen without seeing the beauty and grander of the walk?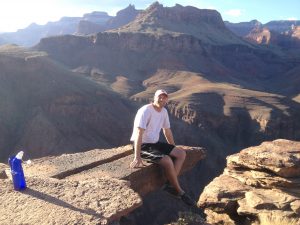 I have had opportunity to hike the Grand Canyon several times from the North to South rim.  On my first hike my dad said to me, "Don't always look forward because there is just as much beauty behind you as is in front of you."  I was looking back this morning and seeing the amazing things God has done in my life, the mountains and valleys, the good and bad.  Mountains are not so spectacular a sight without the valleys contrasting them.  I am convinced that life is a "hike" and sometimes we go through the valley longer than we think we should, other times we complain about climbing the peak…until we reach the summit!
Wisdom for today is ……Keep "Hiking"!
Tuesday, January 31st, 2017
7:00am – Before School Care (Jeremy Shaeffer)
8:15am – Normal School Day
Hot Lunch Menu:  Hot Dogs / Chili & fixings
3:15pm – After School Care (Kimberly Krause)
3:15pm – Academic Help Class (Jeremy Shaeffer)
His Glory, Our Joy!
Jeremy Shaeffer
TBS Principal
PO Box 1453
20 E. Arndt St.
Fond du Lac, WI 54936-1453
920-322-1337
jshaeffer@trinityfdl.net
TBS Mission:
"Team with parents by providing a quality, Christ centered education and produce young people committed to Jesus Christ"