TBS Nation,
Congratulations to Mackenzie Rabe, Valerie Hanes, and Payton Rabe as they are the TBS Character Trait award recipients for the month of August.  The character trait integrity was demonstrated by these students during the beginning days of the school year.  It is very exciting to see students work hard at making an effort to demonstrate and work on these things.  Character building is not easy as it requires conscious decisions made even when nobody is looking.  The Bible tells us that none of us are perfect however we can strive to be like Jesus each day.  Congratulations to these and others who put forth the effort this month.
Character Trait Award Winners:  Mackenzie Rabe (not pictured), Payton Rabe, Valerie Hanes
There is tremendous unrest in our world at the moment.  Sickness, storms, wildfires, war, and much more cloud the news headlines and it is somewhat overwhelming.  It is interesting that there is nothing that man can do to stop any of these things.  Nobody can stop hurricane Irma, nobody can stop North Korea's threats, nobody can cure cancer, nobody can quench the wildfires of the West.  Man is helpless and we have to turn to the one who can aid us.  I don't know what your mountain is, but I do know that God sees the climber and has plotted the journey.  It is our job to trust and find ways to love each other.  What are you doing in this regard?
Thursday the Elementary will be traveling to the WADE HOUSE for a scheduled field trip.  Thank you to those helping with this trip!  We hope to have a great time of learning and fellowship!  We leave from the parking lot at around 8:45am and return at 2:45pm.  See you tomorrow!
Mrs. Braker / Hannah Struska / Amelia Laudolf – Physical Education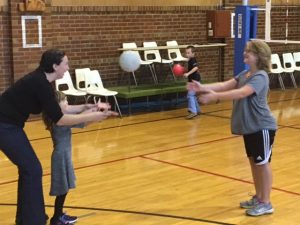 Thursday, September 7th, 2017
7:00am – Before School Care (Jeremy Shaeffer)
8:00am – Traffic Safety / Student Drop-off (Amber Shaeffer)
8:15am – Normal School Day
8:45am – Elementary Field Trip (Sack lunch needed)
2:45pm – Elementary Return to TBS
3:00pm – Traffic Safety / Student Pick-up (Amber Shaeffer)
3:15pm – After Schoo Care (Lin Leeds)
Reminders:
September 14th, 2017 @ 6:30pm – Parent Bridge Meeting (TBS)
September 27th, 2017@ 8:00am – See You at the Pole
September 29-30th – Parenting Conference @ TBS
October 6th, 2017 – Grandparents Day
Jeremy Shaeffer
TBS Principal
20 E. Arndt St.
Fond du Lac, WI 54935
920-322-1337
jshaeffer@trinityfdl.netTBS Mission:
Team with parents by providing a quality, Christ centered education and produce young people committed to Jesus Christ who take scriptural leadership roles in their families, church and community.