TBS Nation,
Good morning TBS and welcome to Thursday.  It is Pork Fest today and I do believe that we have a good crew ready to volunteer for the Morning Kiwanis group.  TBS has served at this event now for about 6 years and we have made a great impact on community as we put our TBS gear and serve the people of FDL.  Thank you to all who are going to help today – TBS will bring in around $600 for the efforts this evening – Praise the Lord for this Fundraiser income!
See you at the pole was a success in my opinion.  There was even a neighbor watching from across the street who stood on his porch as we sang the National Anthem!  My hear was full as I started my day because of the way our students prayed an sang.  Levi Shaeffer, Weston Shaeffer, Micah Thorpe, Ryan Thorpe, Dan Leeds, and I lifted up our country and prayed for leadership as well as our school.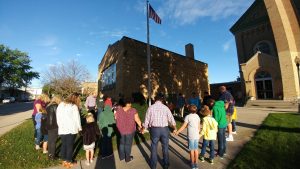 Thursday, September 28th, 2017
7:00am – Before School Care (Jeremy Shaeffer)
8:00am – Traffic Safety – Student Drop-off (Amber Shaeffer)
8:15am – Normal School Day
3:00pm – Traffic Safety – Student Pick-up (Amber Shaeffer)
3:15pm – After School Care (Lin Leeds)
4:00pm – Kiwanis Pork Fest Fundraiser (Student Leadership Team)
8:00pm – Pork Fest Finished
Jeremy Shaeffer

TBS Principal
20 E. Arndt St.
Fond du Lac, WI 54935
920-322-1337
jshaeffer@trinityfdl.net
TBS Mission:
Team with parents by providing a quality, Christ centered education and produce young people committed to Jesus Christ who take scriptural leadership roles in their families, church and community.