TBS Nation,
Good morning and welcome to the beginning of some warmer weather!  Also, I want to praise the Lord for a good report on Kayla.  She is resting at home and is expected to make a full recovery!
I want to introduce you to the newest member of the TBS family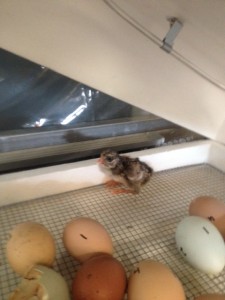 This one hatched last night sometime.  We will have him/her on display in a few days.  We hope to have all the others out sometime today or tomorrow!
Daily Reading:  Galatians 4
Reminder – NO School Tomorrow / Teacher In-service Day
Thursday, May 5th, 2016
7:00am – Before School Care (Jeremy Shaeffer)
8:15am – Normal School Day
10:30am – TBS Public Reading of Scripture – Veteran's Park
3:15pm – After School Care (Kimberly Krause)
Jeremy Shaeffer
Principal of TBS-FDL