TBS Nation,
Wow – the cold weather is a reminder that the winter months are very long and cold.  No reminder needed for all of you to bundle up and prepare for these days, right?  Good news is that the days are getting longer by about a minute or two each day in January and by the end of the month the sun will not set till after 5pm or so.  That is good news!
---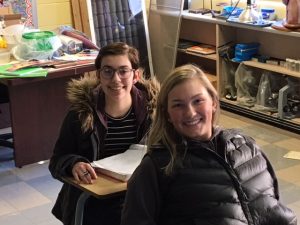 Study Hall Can be fun:  Lizzy Westra & Mackenzie Rabe
---
TBS Auction News:
TBS Auction lists are due in the school office for those who are working on them.  There will be a supplemental list that will go out for those who have time to procure the items.  Thanks in advance for those who are helping with these things.  Your work and efforts do not go unnoticed!  TBS has 10 auction signed for car windows.  We are trying to do some advertising this way as a means to get the word out.  Also, if you are interested please share the Dave Shell Memorial Auction Facebook post so that we can get some serious movement with that advertisement.
Jr/Sr High Student Planner Update:
Thursday evening students will be bringing home an assignment sheet for parents to sign.  Please look at your child's assignments and make sure that the homework is being completed on time.  Those students not completing assignments will have an automatic hour detention that day.  There will be half hour detention given to those who do not have their Student Planner signed by parents.
Thursday, January 5th, 2016
7:00am – Before School Care (Jeremy Shaeffer)
8:15am – Normal School Day
3:15pm – After School Care (Kimberly Krause)
3:15pm – Help Class (Mr. Shaeffer's Room)
Prayer Requests:
*Prayer for the TBS School Auction
*Prayer for the Struska Family
*Prayer for Beth Leeds & Pregnancy (with twins)
*Prayer for Spoor's:  Lydia and Tiffany
*Prayer for School Families & Students
*Prayer for Strength in Marriages
Jeremy Shaeffer
TBS Principal
PO Box 1453
20 E. Arndt St.
Fond du Lac, WI 54936-1453
920-322-1337
jshaeffer@trinityfdl.net
TBS Mission:
"Team with parents by providing a quality, Christ centered education and produce young people committed to Jesus Christ"