TBS Nation,
Good morning and welcome to another wintery day.  It's great!  Sickness in the air (flu), school threats (FDL High), aching backs from shoveling, slippery roads, not enough energy, not enough sleep, long days without sun, more to do than hours in the day….I hope this is not how you woke up!  The reality is that God has graciously given us another day on this earth to serve him by making an impact on someones life.  We get to use our bodies as vessels to be filled with His Spirit do do incredible and extraordinary things that make a difference.  We don't always see the picture in full view however we will some day and it will be humbling to know God used us as a part of the mosaic He designed.  May this be your goal and your hearts desire today!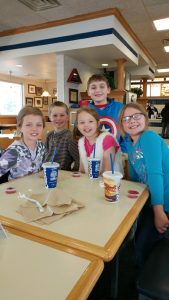 Thursday, January 12th, 2017
7:00am – Before School Care (Jeremy Shaeffer)
8:15am – Normal School Day
3:15pm – After School Care (Kimberly Krause)
3:15pm – Academic Help Class (Jeremy Shaeffer)
His Glory, Our Joy!
Jeremy Shaeffer
TBS Principal
PO Box 1453
20 E. Arndt St.
Fond du Lac, WI 54936-1453
920-322-1337
jshaeffer@trinityfdl.net
TBS Mission:
"Team with parents by providing a quality, Christ centered education and produce young people committed to Jesus Christ"