TBS Nation,
Good morning TBS and welcome to Thursday!  Over half the week behind and the last two days ahead before a little break!  I am thankful for the help and hard work of Randy Martin this week as he as volunteered to help clean the school with/for me!  What a blessing!  I am also thankful for a new smart board projector that came to the school to replace the one in my classroom!  This will help the classes again function as normal.  It will take the weekend to assemble and put up in the proper way.  All kinds of things to be thankful for!
Annika Shaeffer / Preparation for Science Class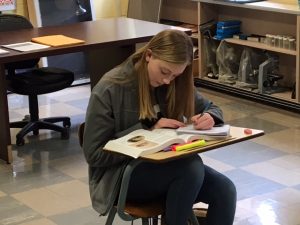 #catchastudentworking!
Reminder:
*High School Students ONLY – Allowed to check out Laptops for Geography Paper (Due Friday)
*Jr. High Science Test tomorrow
*Souped Up Tickets / Sell…Sell…Sell….
*WACS Fine Arts work to be accomplished/practiced
*February Winter Break – February 20th – 21st (NO SCHOOL)
Thursday, February 9th, 2017
7:00am – Before School Care (Jeremy Shaeffer)
8:15am – Normal School Day
3:15pm – After School Care (Kimberly Krause)
3:15pm – After School Academic Help Class
Jeremy Shaeffer
TBS Principal
PO Box 1453
20 E. Arndt St.
Fond du Lac, WI 54936-1453
920-322-1337
jshaeffer@trinityfdl.net
TBS Mission:
"Team with parents by providing a quality, Christ centered education and produce young people committed to Jesus Christ"