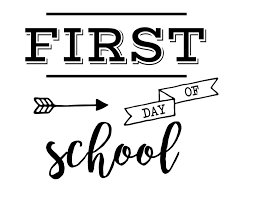 TBS Nation,
We only have a few hours left till school begins tomorrow morning.  We want to welcome you all into the school.  Doors will be open at 7:55am.  We want to give you a few minutes to get the kids settled and ready to go for the day.  It is our privilege to serve you all this year and we look forward to making it a great one of growth.
TBS has great families and rich spiritual foundations that match well with our mission statement.  For those that are new to TBS you will see this often:
Mission of TBS:
Team with parents by providing a quality, Christ-centered education and produce young people committed to Jesus Christ who take scriptural leadership roles in their families, church and community.
We know that there are many facets to developing a youth and we are well aware of the challenges that are present in this world of sin.  We are thankful to be working on a foundation of a Biblical Worldview that encourages your student(s) to derive individual convictions by which they can stand firm.  We will endeavor to make these truths stick in the hearts and minds of the youth so that the family, church and community continues to strengthen!
Happy first Day of School – Check out the Information Below!
Announcements:
Traffic Safety Plan:  Parents don't forget to use the traffic safety plan as you come to school tomorrow!  Parents can enter and exit on Arndt St. and park in the second row of parking stalls.  If you are going to drop off your students you may do so by pulling up to the cone area and exiting to Arndt St. or Main St.
Fire Drill / Thursday, August 17th, 2017:  The JF Ahern Co. will be working on the Fire Alarm on Thursday and there will likely be a drill that will happen because of the testing being done.  Please advise your students that this will be taking place tomorrow (Yes the first day of School…sorry about that).
Elementary Orientation:  Those who did not come to the TBS Elementary Orientation will need to pick up a packet of information from the School Office ASAP!  Also, don't forget to sign up for your Parent Teacher Conferences in October……
Jr/Sr High Orientation:  Thursday and Friday will be full day events for the Jr & Sr High Students.  Classes will resume on Monday, August 21st, 2017
Labor Day – September 4th (NO SCHOOL)
Thursday, August 17th, 2017
7:00am – Before School Care (Jeremy Shaeffer)
7:55am – School Doors Open(Amber Shaeffer / Parking Lot Duty)
8:15am – Classes Begin
Jr. & Sr. High Orientation begins in TBS room # 12 (Leeds/Braker)
Elementary Classes will begin as normal
*******   TBS All School Fire Drill ******
2:05pm – TBS All School Assembly / Emergency Response Drills & Orientation
3:00pm – School Dismisses (Amber Shaeffer / Parking Lot Duty)
3:15pm – After School Care (Jeremy Shaeffer)
Jeremy Shaeffer
Principal of TBS-FDL