TBS Nation,
Trinity Baptist School purposely communicates the Gospel every day in our classrooms.  It is a theological, foundational, and spiritual  reality and opportunity that we are afforded in our country and TBS does take advantage of this in our daily school activity.  What a blessing and privilege to speak truth into the lives of young hearts on a daily basis.  Let me ask you, "when you do not hear truth each day what do you tend towards – Godliness or Worldliness?"  If you are like many the answer is obvious that we will not, in and of ourselves, gravitate to foundational truth but rather the enticements of the world around us.  If this is true of adults is it not obvious that we need to continuously push our young people to hear truth as much as we can?
Foundational Truth in Motion:
Lin Leeds Elementary Classroom
Bible stories and Truth each morning!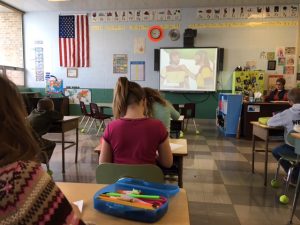 It is Monday and we have enjoyed a day or so of warmer temperatures with a lot of sun!  Hope this is a trend that does not end soon.  I do understand that we are still in February and that winter is not over.  We can only hope for a mild second half!
Monday is the beginning of week 6 of the Qtr 3.  Just as a reminder TBS will not have school on Monday and Tuesday of next week for our Winter Break.  Hopefully families will be able to take advantage of this time to grab some breaths and recharge.
Here is your Monday:
Monday, February 13th, 2017
7:00am – Before School Care (Jeremy  Shaeffer)
8:15am – Normal School Day
3:15pm – After School Care (Jeremy Shaeffer)
3:15pm – Academic Help Class (Jeremy Shaeffer)
His Glory, Our Joy!
Jeremy Shaeffer
TBS Principal
PO Box 1453
20 E. Arndt St.
Fond du Lac, WI 54936-1453
920-322-1337
jshaeffer@trinityfdl.net
TBS Mission:
"Team with parents by providing a quality, Christ centered education and produce young people committed to Jesus Christ"