TBS Nation,
Friday is here and we have officially made it to the end of the 3rd week of school. Tomorrow parents will be bombarded again with progress reports from teachers.  These reports will come in the form of pdf documents and will be our way of letting you see the progress of the students thus far. We are tracking grades closely to watch for good patterns as well as watching for patterns needing improvement.  Remember, staff welcomes your feedback from the classroom and we intend to keep those lines of communication open throughout the school year.  Watch your email accounts closely for these reports from Sycamore Education / Student(s) Teacher.
The TBS elementary went to the Wade House today and had a great time.  There was much learning that took place through several interesting hands-on experiences.  Thank you to Jodi Thorpe, Tiffany Spoor, Stephanie Hanes and Patty Abell for your help in driving and supervising the TBS Elementary – It was a big help!
---
Ezekiel Westra & Bethany Braker in the Sheboygan / FDL Wagon
Wade House Field Trip
Month of September – TBS Lower Elementary Food Drive / Bring nonperishable food to donate to the Salvation Army food pantry
September 11th – Firemen & Police Day (K – 2nd Grades)
September 12th – Hot Lunch (Chicken Pot Pie Casserole)
September 14th @ 6:30pm -TBS Parent Bridge Meeting
September 27th @ 8:00am – See you at the Pole (Prayer for Country / School)
September 28th – TBS / Kiwanis Pork Fest (Knights of Columbus)
September 29th – 30th @ 6:00pm – Tripp / Parenting Conference (Friday evening & Saturday Morning – more details to come)
October 6th – Grandparents Day
---
Help Needed:
TBS
needs 5 more
volunteers
to help a the
Kiwanis Pork Fest
on September 28th.  We have staff and students committed but because we have fewer students in the upper grades we will need to ask for a few parent volunteers!  If interested please email
jshaeffer@trinityfdl.net
 to sign up.  The working hours are from 4pm – 8pm at the Knights of Columbus in FDL!  Thanks
Auction Committee Members – Calling all who would be interested in helping with the TBS school auction.  We are not to far away from an initial meeting and we would like to invite any who have time to help procure items this season. Please contact Tiffany Spoor or Jeremy Shaeffer for more information concerning the auction process.  Volunteers are needed on October 19th & 21st to begin the donation solicitations!  Let us know if you would be willing to help!
---
With all the clutter in the schedule I don't want to every loose the opportunity to express my joy in the ministry TBS experiences.  Each day your students walk into the school classrooms and sit down under our teaching to learn about TRUTH.  We celebrate these experiences and we treasure the victories we watch.  Congratulations to Lizzy Westra on a victory in Geometry!  She did not think she was going to do very well and spent some extra time going over lessons already completed.  Her efforts paid off today as she received a perfect score on her Cumulative Test this afternoon!  Keep up the good work Lizzy!
Perfect Score on Cumulative Geometry Test 1
Lizzy Westra – Junior @ TBS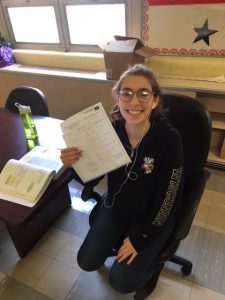 Today our Jr & Sr High music classes also received a live tutorial about the cello.  Arpad Muranyi (an accomplished cellist) spent the hour educating the students on the art of the instrument.  He played several examples and answered questions about the instrument.  Thank you Arpad to contributing your time and energy to give our music education a higher appreciation towards these musical disciplines!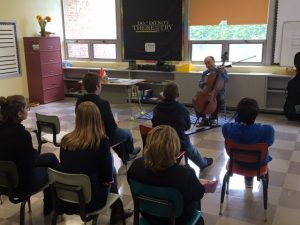 Happy Friday / Have a great weekend everybody!