TBS Nation,
Friday! Friday! Friday! Are you as excited as I am?  I am really looking forward to a couple of days spent with family and enjoying this unbelievable weather!  We do have some changes to our normal schedule especially during the morning hours.  The TBS Jr/Sr High girls will be serving at MOPS (held at Community Church) and the guys will be learning about Servant Leadership @ TBS.  The point of these opportunities is to expand our vision to see others needs in our community.  Service to others will show Christ and gives TBS students the opportunity to grow spiritually by seeing needs.
Speaking of service, thank you to the following for your help in serving at the Kiwanis Pork Fest last night!  We could not have done it without you!
Dan Leeds, Lisa Kaufman, Pat Miller, Jan Martin, Sarah Leeds, Lin Leeds,
Andras Muranyi, Savanna Westra, Mahri Westra, Lizzy Westra, 
Annika Shaeffer, Hanna Bryant, Mackenzie Rabe, Rachel Tompkins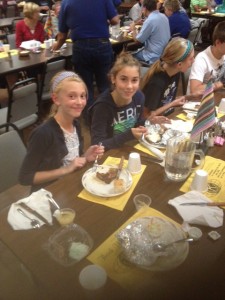 Friday, September 26th, 2014
Kwik Trip Car Wash Fundraiser Deadline!  See Tiffany Spoor
7:00am – Before School Care (Jeremy Shaeffer)_
8:15am – TBS Service Day / Elementary Field Trip
8:15am – TBS Girls @ MOPS / Boys – Leadership Training
*No scheduled classes until after lunch for Jr/Sr High School
3:00pm  VBall Practice
3:15pm – After School Care (Jeremy Shaeffer)
Patriot Post:  A special thanks to Tiffany Spoor for the work done in the TBS office.  She is organized and volunteers her time as a service to TBS.