TBS Nation,
Donations big and small make the difference in our school.  I am very thankful for the effort put in to this $5.00 donation by Ellen and Allison Spoor.  Their efforts motivate me to do more for our school in the way of finances.  I will never turn away donations and I am humbled to accept this on behalf of our school.  Thank you Spoor girls for this donation!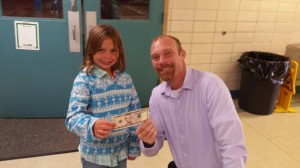 Wow, two wins for the Patriot teams last night.  The TBS/FCS team defeated Victory Christian School 3-1 and the TBS Girls VBall team defeated Calvary Baptist School 4-1.  You can hear our scores on KFIZ during the sports update this morning!  We made it through another week.  I know many of you have struggles and battles that need prayer.  It is our goal at TBS to lift each other up in this way.  Send those requests to Tiffany Spoor or Jeremy Shaeffer and we will post those on our FaceBook page and print it in our Patriot Post.
Hope you all have a good weekend!  Rest and fellowship are good medicines to take for long weeks!
---
Friday, September 19th, 2014
7:00am – Before School Care (Jeremy Shaeffer)
8:15am – Normal School Day
Lunch:  Snow Cones $1.00 – Order from Jr/Sr Class
3:15pm – After School Care (Jeremy Shaeffer)
Kiwanis Pork Fest:  We have an opportunity to help serve our community and make some money for TBS.  Thursday night September 25th the Kiwanis are having their Pork Fest dinner.  We are in Urgent need of 15 volunteers.  Anyone junior high and up can help serve.  Please let Tiffany Spoor know ASAP if you are able to help out!
Serving Him,
Jeremy Shaeffer
Principal of TBS-FDL