TBS Nation,
Congratulations on finishing the 3rd quarter in our 2016-17 school year.  I can hardly believe that we are talking about the final 9 weeks of school but here we are.  I want to just give a word of testimony and celebration concerning our High School today.  TBS staff has worked hard to grow and challenge our students in their classes particularly focusing with students achievement above "C" level work.  Yesterday our entire High School tested well in Geography and met the level of expectation for the first time all year as a class.  They were praised and congratulated because of their efforts and my heart, as a teacher/principal,  was full.  It is not an easy job when you consider the following:
– TBS Teachers have 50 minutes to pack in lessons each hour
– Students are required to stay engaged in rigorous thinking for this amount of time for 7         different classes
– Teachers work hard to keep students on task and motivated even when it is not what the student desires
Can you keep a 11-18 year old working and on task with something they don't necessarily want to do for 6.5 hours in a row and keep your sanity?  #teacherstrong
All this said, TBS high school had a win on Thursday and we are making a big deal of it because it is a BIG DEAL!  Failure demonstrates the need for growth and hard work.  Success is measured when we close the gap of failure and continue to work to keep from repeating our mistakes.  Good Job High School and Cultural Geography!
---
Announcements:
*Don't Forget Daylight Savings Time
 WACS updates:
Follow TBS Facebook page for updates and some live streaming Friday, March 10th, 2017
TBS will be leaving at 7:00am/ Returning between 7:30pm – 8:00pm (depends on end ceremony)
Final Preparation for WACS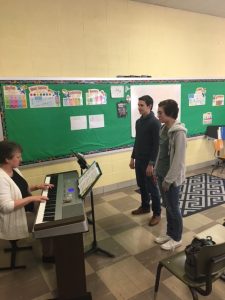 Andras & Lizzy Duet:  For the Beauty of the Earth
Requests:
TBS has long prayed and worked with the Spoor Family as they continue to fight with and for Lydia.  Quite frankly they are exhausted and spent on most fronts.  I would like to give them a blessing and supply them with three meals next week.  If you are willing and able would you sign up for the following dates:
Monday, March 13th
Tuesday, March 14th
Wednesday, March 15th
This would be a blessing and a way to show our continued support of their family.  Please email jshaeffer@trinityfdl.net and put the day you can help in the subject line.
---
Friday, March 10th, 2017
6:50am – WACS Students Arrive / Leave @ 7:00am & Return at 7:45pm to TBS
7:00am – Before School Care (Sarah & Lin Leeds)
8:15am – Normal Elementary School Day
3:15pm – After School Care (Sarah Leeds)
7:45pm – Return from WACS
His Glory, Our Joy!
Jeremy Shaeffer
Principal of TBS-FDL