TBS Nation,
Yeah!  It's Friday and we have made it to the end of another week.  I hope the weekend will bring some much needed rest and down-time.  It is always amazing to me that we find a way to schedule ourselves to the brink and wonder why we have trouble concentrating with a lack of energy.  Each of us must evaluate what the necessary items on the schedule are and also find ways to reduce the fullness to let our bodies and minds rest.  I am thankful for wise men and women who remind me of this often.  Do I listen? Not always, however it is becoming more of a priority of mine as I journey through this life.
---
Can we give a huge Thank You to Randy Martin?  Randy has given of his time this week to come take hours off of Mr. Shaeffer's schedule by cleaning the TBS Classrooms and halls this week!  What a testimony to our school and what an encouragement of a servant heart!  Thank you Randy Martin for the work on our behalf!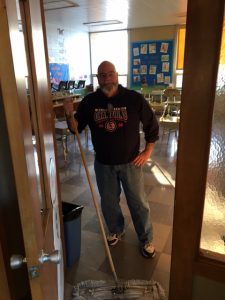 Randy Martin:  TBS Appreciates You!
---
SOUPED UP INFORMATION:
Souped Up fundraiser is quickly approaching and we are looking to have a great turn-out.  We are asking each family to reach out to some individuals that you know and sell the tickets in your packets!  I know this is sometimes a hard thing to accomplish in the daily grind but this does help us reach our fundraising goals for the year.  Last year we raised around $3,000.00 and we are looking to improve by up to $2,000.00 for this one event.  Thanks in advance for all who are active in this because you are making TBS stronger!
Reminders:
Souped Up Fundraiser:  Tickets Available  Event: March 2nd, 2017
Winter Break:  February 20th-21st (No School)
WACS Projects / Jr. & Sr. High Due February 28th
Tuesday Mornings:  8:15am / Parent Prayer time (TBS Library)
Jeremy Shaeffer
TBS Principal
PO Box 1453
20 E. Arndt St.
Fond du Lac, WI 54936-1453
920-322-1337
jshaeffer@trinityfdl.net
TBS Mission:
"Team with parents by providing a quality, Christ centered education and produce young people committed to Jesus Christ"