TBS Nation,
Good Afternoon – Hope you all had a great day.  I have to admit, as I am sitting here writing the email, I am really enjoying the cool, dry air outside.  The bright sky and clean air really reminds me of fall.  I really enjoy watching the changing of the seasons even though it means that the cold days will be upon us soon.
I want to commend the TBS students on the awesome work done in the first week of school.  I have seen seniors dig in and work ahead, Jr. High students desire to have homework done before class ends, upper elementary students singing their hearts out during the opening of school and lower elementary kids smiling while doing seat work.  This all warms a principals heart!  I hope it warms yours as well.  Many showed the clear character trait of Integrity today.  Staff is still looking at students who demonstrate this the best over this first month!  We will hand out an Elementary / Jr & Sr. High Integrity Award to the student(s) who particularly shine with this trait.
Upper Elementary Reading Time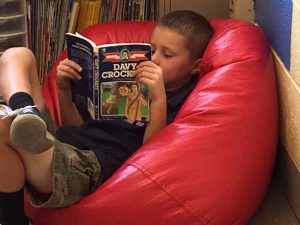 It is Friday tomorrow and that means that PIZZA can be ordered.  Be sure to send money unless it is to go on the monthly bill.  At the end of August parents accumulating charges on Hot Lunch / Pizza accounts will be billed accordingly.  No credit will be extended to any family who is more than 30 days late with payment.  I trust you understand the reasons we have to keep everybody to this standard…I wish I had won the Powerball – ok not really!
Freshman Class
Micah Struska, Annik Shaeffer, Silas Westra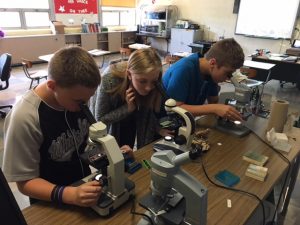 Biology Students take their first shot at 
viewing microscopic specimens
Sue Struska – Stage 4 Cancer / Wisdom for Dr's and her Husband Bill (Grandma and Grandpa of Struska kids)
Kim Struska – Kim's fight with cancer and wisdom for Dale and family during this time
Lydia Spoor – Headed to Milwaukee because of infection / She needs IV antibiotics (Eric and Tiffany Spoor / Family)
Stephanie Hanes – Pregnancy
Struska Family safely travelled over 6,500 miles
Moies Family safely travelled to Haiti and back!
Successful 1st Week of School
Friday, August 25th, 2017
7:00am – Before School Care (Jeremy Shaeffer)
8:00am – Traffic Safety & Student Greeting
Don't Forget:  Pizza Orders (Miss Leeds)
8:15am – Normal School Day
3:00pm – Traffic Safety / Student Pickup (Miss Leeds)
3:15pm – After School Care (Sarah Leeds)
I trust you will all have a great weekend of rest!  Enjoy your weekend and we will see you all on Monday!
Jeremy Shaeffer
TBS Principal
20 E. Arndt St.
Fond du Lac, WI 54935
920-322-1337
jshaeffer@trinityfdl.netTBS Mission:
Team with parents by providing a quality, Christ centered education and produce young people committed to Jesus Christ who take scriptural leadership roles in their families, church and community.