Friday, August 18th, 2017
TBS Nation,
Whew!  First Day is in the books!
What a great day we had on the first day of school.  Elementary classes were moving well right away in the morning and it was good to see parents wishing their student(s) good luck!  Jr & Sr High orientation went well and students enjoyed a soft start to the school year.
I am very proud of our staff and our work to make this year an easy start for all of you.  We have put in much effort to make sure this year is a successful one and one of growth and joy!  I rejoice in the work God is doing with our school and the families we have.
Remember to mark your calendars for the first "Parent Bridge" meeting on September 14th (6:30pm).  And and all parents are invited to come to this round table evening. Child care will be provided for you so you can attend. TBS will also invite a selected student ambassador to participate in the meeting as well.  An agenda and survey will be sent soon!
Prayer Requests:
Kim Struska & family – Healing and travel
Sue Struska  – Recovery from Surgery
TBS Families
Lydia Spoor – Continued health journey
Moies Family – Travel mercies as they return from Haiti
Mahri Westra – Mission Trip to Mexico
Announcements:
Pizza Friday (Students May order a pizza slice for $1.00 each)  Orders will be taken Friday morning before School.  If your child would like to order please send payment with them in the morning. Those who order and do not have payment will be billed for the lunch.  Enjoy Little Caesars!
Jr/Sr High Orientation (Friday / All Day Event)
Kwik Trip Orders Due September 23rd
Fundraising News:
TBS is currently running fundraisers:
*God's Creation Calendars
*Yankee Candle
Box Tops
Kwik Trip
Remember that the Staff and School Committee is competing agains the parents and students for the Calendar/Yankee Candle fundraisers.  The group that earns the most money owes the other a nice lunch!  Staff is already working hard at trying to outsell the students.  A chart will be posted to show the progress of each to help encourage the competition!
Elementary Students in TBS / Oberreich Library
Thursday, August 17th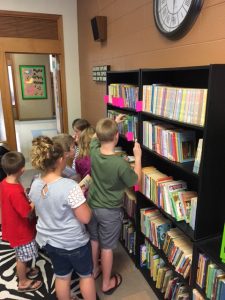 Friday, August 18th, 2017
7:00am – Before School Care (Jeremy Shaeffer)
8:00am – Traffic Safety / Student Welcome  (Sarah Leeds)
8:15am – School Day Begins (Remember to order Pizza from Miss Leeds)
8:15am – Jr./Sr. Orientation
3:00pm – School Dismissal
3:15pm – After School Care (Sarah Leeds)
Have a great weekend!  We will see you on Monday!
Jeremy Shaeffer
Principal of TBS-FDL