TBS Nation,
Good morning all…I trust you had a productive Monday.   I found myself buried in work and tried to swim to the top of the pile quickly however there were many needs today and many things that required more time than a Monday could afford.  I guess this is why we have Tuesday – Friday!
I want to celebrate National Custodian Day since we have a tremendous helper at TBS!  Randy Martin has put in two – five hours an evening keeping the school clean.  I can't tell you how much our school has improved in its care since he has taken over what I attempted to accomplish.  Randy sweeps the floors, mops the floors, empties the garbage, buffs the floors and vacuums the rugs in the hallways. He also cleans the bathrooms and washes windows!
---
Randy Martin – TBS Volunteer / Servant Leader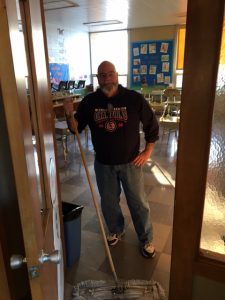 ---
The students at TBS have given him a THANK YOU card today with staff adding a little gift card.  He needs to be thanked for the job he does on a volunteer basis each day!  What a servant and what a testimony to our school!  Thanks Randy for the work you do for TBS and our students each night!  We appreciate it!
Tuesday, October 3rd, 2017
7:00am – Before School Care (Jeremy Shaeffer)
8:00am – Traffic Safety / Student Drop-off (Lin Leeds)
8:15am – Normal School Day
Hot Lunch Menu:  Shepherds Pie / Fruit / Peanut / Butter Bars
3:00pm – Traffic Safety / Student Pick-up (Lin Leeds)
3:15pm – After School Care (Lin Leeds)
3:15pm – Elementary Volleyball Practice
Jeremy Shaeffer

TBS Principal
20 E. Arndt St.
Fond du Lac, WI 54935
920-322-1337
jshaeffer@trinityfdl.net
TBS Mission:
Team with parents by providing a quality, Christ centered education and produce young people committed to Jesus Christ who take scriptural leadership roles in their families, church and community.